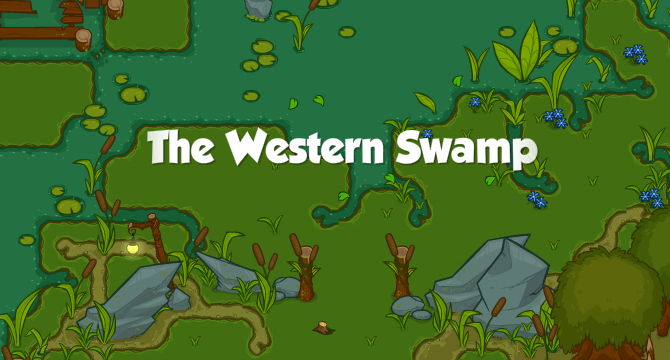 Mission
Task
Reward
1. Tadpoles for Teresa
Find 25 Tadpoles
 · 2%
Find Tadpoles for Teresa in The Western Swamp
2. Spider Eyes for Spock
Find 35 Spider Eyes
 · 2%
Find Spider Eyes for Spock in The Western Swamp
3. Rare Lilies for Rose
Find 30 Rare Lilies
 · 2%
Find Rare Swamp Lilies for Rosa in The Western Swamp
4. Pulling Poison Plants for Paul
Find 20 Poison Plants
 · 2%
Whack poison plants for Paul in the western swamp
| | Name | Description |
| --- | --- | --- |
| | Fly Wings | Bzzzz |
| | Boxing Gloves | Pow! |
| | Lily Hat | Slightly Soggy. |
| | Hockey Mask | Do you hear a chainsaw? |
Decoration Items
Edit
| | Name | Description | Cost |
| --- | --- | --- | --- |
| | Fruit Bowl | Do not try eating! It's plastic! | 250 |
| | Firefly Lamp | A new firefly camps in the lamp every night. | 1250 |
| | Swamp Painting | A nice swamp scene. | 500 |
| | Bench | A comfy padded bench | 750 |
| | Name | Costs to whack |
| --- | --- | --- |
| | Fuzzy Spider | 7 |
| | Hissy "Ssssss" | 8 |
Secret Bonus Area
Edit

The entrance is accessible by going south of the gate at the end of the Western Swamp, along the western edge of the area.
The puzzle has 64 puzzle pieces and the bushes are level 9.
After completing the puzzle, you will be rewarded with 250 Gold and a Wavy Sword.