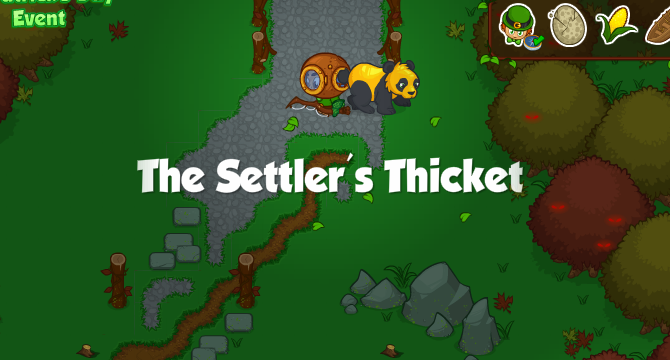 About This Zone
Edit
Well, we've rebuilt the town of Port Black Wood, but the fires the Princess conjured also burnt all their food supplies. There is a solitary farming couple that usually provide for the town's needs. Hopefully, they'll have enough crop surplus to resupply Port Black Wood
Mission
Task
Reward
Haunted Forest Supply Run!※
Find the Old Farmer in Settler's Thicket  ·
Complete his 3 tasks
50  ·
The Townspeople of Black Wood are nearly out of supplies following the awful fires set by the Princess. A farmer deep in the Haunted Forest - in an area called The Settler's Thicket - may have supplies. Journey to the farmer and plead for his aid, or else the townspeople may starve in spite of all your help!
1st Task: Beloved Artifacts
Find the Lock of Hair · The Old Necklace ·
The Ratty Dress
The Farmer's wife recently passed away. Find a lock of hair, an old necklace, and a ratty dress in the bushes of the Settler's Thicket Area in the Haunted Forest.
2nd Task: Zombie Flesh
Find 20 Zombie Flesh
The Farmer's seen some Zombies nearby. Find some Zombie Flesh in the bushes in the Settler's Thicket Area in the Haunted Forest
3rd Task: A Long, Metal Rod
Find the Lightning Rod
The Farmer's lost his "weather vane." Find a new "weather vane" rod in the bushes in the Settler's Thicket Area in the Haunted Forest
1. Dog Food for Freddy
Find 24 Dog Food
50
Find Dog Food for Freddy in the Settler's Thicket Area in the Haunted Forest
2. Haunted Herbs for Rosa
Find 27 Haunted Herbs
50
Find Haunted Herbs for Rosa in the Settler's Thicket Area in the Haunted Forest
3. Brooms for the Witches
Find 30 Brooms
50
Find Brooms for the Witches in the Settler's Thicket Area in the Haunted Forest
4. Pages for Pommy
Find 44 Journal Pages
50
Find Pages for Pommy in the Settler's Thicket Area in the Haunted Forest
| | Name | Description |
| --- | --- | --- |
| | Mystical Cape | Mystical powers not included |
| | Ghost Mask | Either it's a mask, or a ghost really loves your face. |
| | Witch Hat | Which hat? This hat! |
| | Phantom Mask | For days when you have to cover half of your face |
Decoration Items
Edit
| | Name | Description |
| --- | --- | --- |
| | Potted Mushroom | This mushroom sat on the control console at a Nuclear Powerplant for years, and it's just fine! |
| | Gravestone | RIP top-right corner of this Gravestone |
| | Cat Portrait | A cute little kitty in front of a crescent moon |
| | Giant Candle | It's enormous! |
| | Name | Costs to whack |
| --- | --- | --- |
| | Bad Vlad | 12 |
| | Chatter | 13 |
Secret Bonus Area
Edit

The Twenty-Fourth Secret Bonus Area can be accessed by finding the secret entrance in the Settler's Thicket Zone.
The entrance is on the western side of the zone. The path to the Secret Bonus Area can only be accessed after completing Field 1, Puzzle 3 and heading to the trees to the south of Field 2.
Click here to see the path to the entrance.
The puzzle has 64 puzzle pieces and the bushes are level 13.
After completing the puzzle, you will be rewarded with 250

and the 

.