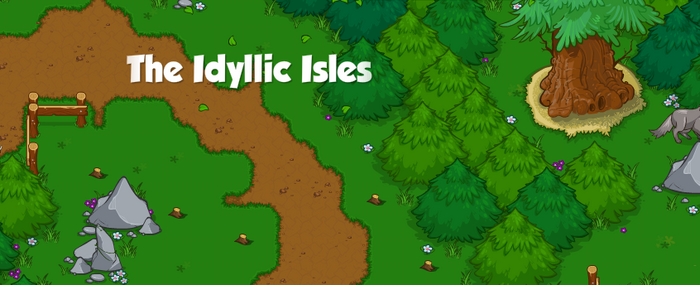 Mission
Task
Reward
The Ring
Take the Ring through the Idyllic Isles
Take the Ring to the Volcano! You'll need to travel through The Idyllic Isles, The Isle's Edge, The Incandescent Ascent, and The Torrid Top before tossing the ring into the very center of the Volcano. Good luck!
Sleeping Bags for Saul
Find 25 Sleeping Bags
Leveled &
Find 20 Sleeping Bags for Saul and his camping group by whacking bushes in the Idyllic Isles.
Insurance for Ingo
Find 30 Insurance Papers
Leveled &
Find 30 Insurance Papers from Ingo's contract. These Insurance Papers can be found by whacking bushes on the Idyliic Isles.
Surfboards for Sammy
Find 30 Surfboards
Leveled &
Find 30 Surfboards for Sammy's surf class by whacking bushes on the Idyllic Isles.
Nails for Nellie
Find 40 Nails
Leveled &
Find 40 nails for Nellie's boat, which can be found on the Idyllic Isles.
 
Name
Description
Source

Gem Encrusted Stone
Increases your Gem Odds Rating by 10000
Store after unlocking The Idyllic Isles
30 000 + 16 + 14

Charred Marshmallow
Increases your Mana, Power, Gold, Energy, and Less Nothings Odds Ratings by 4500
Schematics - Field 2, Puzzle 2 in The Idyllic Isles
Seaweed Cornucopia + Pirate Gold + Atlantian Statue + Mana Trident + Old Shark Tooth
25 000 , 1

Melted Candle
Increases your Maximum Mana and Power by 12
Schematics - Field 3, Puzzle 3 in The Idyllic Isles
Sea King Pearl + Ancient Sunken Ring
25 000 , 1
| | Name | Description |
| --- | --- | --- |
| | Lava Gloves | Hot Gloves for a hot day! |
| | Volcano Cape | An erupting Volcano on your back! |
| | Volcano Hat | Make a fashion statement with this explosive hat. |

Spoiler: Secret Letter 1
---
Start at the entrance to the laboratory and walk 5 paces South.
Decoration Items
Edit
| | Name | Description |
| --- | --- | --- |
| | Lava Rock Floor | Bushwhackia's very first heated floor! |
| | Burnt Tree | Smells like Volcano |
| | Wall Shield (Unicorn) | A nice unicorn wall shield |
Lava Hook Sword
Decorations
Edit
Lava Wall Fish
"Secret Bonus Area 50" in The Idyllic Isles
Edit
The Fiftieth Secret Bonus Area can be accessed by finding the secret entrance in The Idyllic Isles.

Spoiler: The entrance is located to the South of field 2.
---
South of the field, there is a beach. Go to the left most rock bridge that appears to go out to the ocean. Many users are claiming they can not find this SBA due to screen edge conflicts. Try going to fullscreen and click on the very limit of the play area and your friend's bar if you are having issues.

The puzzle has 81

.
After completing the puzzle, you will be rewarded with 1000

and the Mini Golf Volcano Piece.