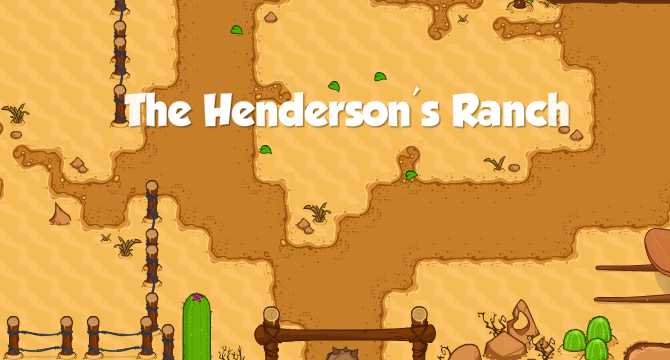 The Henderson's Ranch is an optional area located on the First Island and is part of Inspector Kaine's Detective Agency Quest line. The Mystery of the Missing Cows is completed here.
Prerequisite: Complete Inspector Kaine's Detective Agency · Reach The Desert Ranch · Complete Follow the Footprints quest.
Mission
Task
Reward
The Abandoned Ranch
Find a clue in the Cow Pen
2%
You've followed the footprints to the Henderson's Ranch, but it seems to be abandoned. Complete the puzzle in the cow corral while Investigator Kaine searches the house.
It's All Uphill from Here
Find a clue on the Hill behind the House
2%
Investigator Kaine would like your help searching the field on the hill north of the Henderson's House. Complete the puzzle to reveal the next clue.
Searching for Signs of Life
Find the Broken Suppressor
Find the Abandoned Campsite
Find the Cow Skeleton
2%
You've found three cow bells now, but still no sign of a cow or whoever is taking them. Search the hills in the norther part of the Henderson's Ranch for more clues.
Emergency Repairs
Repair the Broken Suppressor
 ·  ·  · 6%
You've found the source of the missing cows: a massive, voracious sandworm! Solve the puzzle in the field near the broken suppressor to repair it and scare off the sand worm.
| | Name | Description |
| --- | --- | --- |
| | Sand Worm Hat | Don't panic, but there is something on your head. |
Decoration Items
Edit
| | Name | Description |
| --- | --- | --- |
| | Personal Suppressor | Keep worms (and other burrowing creatures) off of your ranch with this handy personal suppressor. |