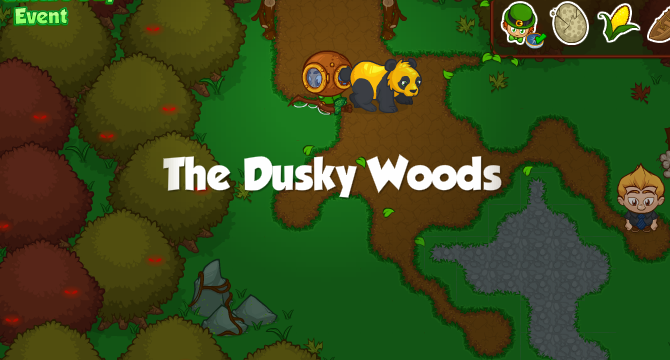 Mission
Task
Reward
Didn't See That Coming
Chase the Princess through the Dusky Woods
The Princess has tricked you and run off into the Haunted Forest. You've got a bad feeling that maybe she's not as weak and as innocent as she seems. You'd better go after her...
1. Garlic for Gary
Find 32 Garlic
50
Find Garlic for Gary in the Dusky Woods Area in the Haunted Forest
2. Bones for Bornhald
Find 45 Bones
50
Find Bones for Bornhald in the Dusky Woods Area in the Haunted Forest
3. Boards for Bekka
Find 40 Boards
50
Find Boards for Bekka in the Dusky Woods Area in the Haunted Forest
4. Grimoires for Gracie
Find 33 Grimoires
50
Find Grimoires for Gracie in the Dusky Woods Area in the Haunted Forest
| | Name | Description |
| --- | --- | --- |
| | Brass Gloves | Shiny! |
| | Spooky Eye Cape | There's something on your back |
| | Hazmat Hood | You never know when you'll encounter glowing green sludge |
| | Mystical Staff | It's mystical! |
Decoration Items
Edit
| | Name | Description |
| --- | --- | --- |
| | Creepy Shrub | Who wouldn't want to line their pathway with these? |
| | Hole in the Floor | Why would the IDEA stores even sell this?? |
| | Patterned Tile | Purple Pattern Power! |
| | Antique Chair | Grandpa owns one just like this |
| | Name | Costs to whack |
| --- | --- | --- |
| | Spooky | 11 |
| | Bad Vlad | 12 |
Secret Bonus Area
Edit

The Twenty-First Secret Bonus Area can be accessed by finding the secret entrance in the Dusky Woods Zone.
The entrance is on the western side of the zone, with the path opening south of the exit gate. The path to the Secret Bonus Area can only be accessed after completing Field 4, Puzzle 3.
Click here to see the path to the entrance. You may need to enter full screen mode to be able to access it.
The puzzle has 64 puzzle pieces and the bushes are level 11 and 12.
After completing the puzzle, you will be rewarded with 250 Gold and the Broom Stand.