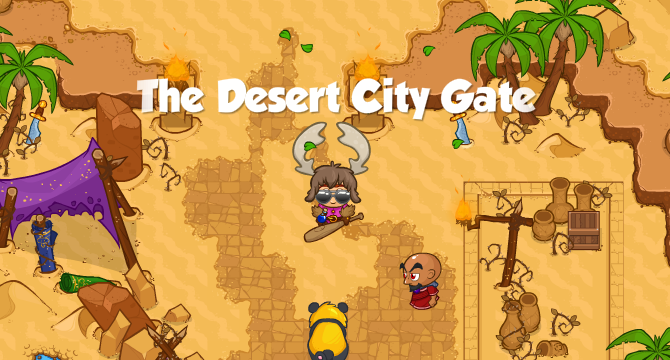 Return to Upper Juau Island
About the Zone
Edit
You land on "Island" 4 in the Agrabush Sector's Desert City Gate Zone to continue the search for the princess. You find yourself facing the sealed entrance of a stone walled city. Maybe you'll find the princess here without having to find a way inside... Yeah, not with the luck you've been having so far; you'll probably only find her hat if you're lucky... Completing the quests here will open the way to the entrance to The Abandoned Bazaar.
Mission
Task
Reward
The City Across the Sea
Search the Desert City Gate for signs of the Princess.
50
Sail across the Sea to the lost city of Agrabush and continue your search for the Princess.
The Princess's Hat
Search for more signs of the Princess.
250
You've found the Princess's hat in the sand. Odd that she would leave it here. Continue making your way towards the city while looking for other clues.
A Captured Princess
Search for the Princess and her 'captors'
This quest is completed by reaching The Crumbling Palace
250
The Princess has been captured by bandits -- maybe? She's tried this once before, so maybe it's a ruse? Make your way through the city, but watch your back!
Jewels for Jafar
Find 30 Jewels
50
Collect 30 Jewels for Jafar. You can find Jewels in bushes all throughout the Desert City Outskirts.
Handfuls of Sand for Sandi
Find 45 Handfuls of Sand
50
Collect 45 Handfuls of Sand for Sandi. You can find Handfuls of Sand in bushes all throughout the Desert City Outskirts.
Scimitars for Saleen
Find 40 Scimitars
50
Collect 40 Scimitars for Saleen. You can find Scimitars in bushes all throughout the Desert City Outskirts.
Ancient Pottery for Patrick
Find 50 Ancient Potter
50
Collect 50 Ancient Pottery for Patrick. You can find Ancient Pottery in bushes all throughout the Desert City Outskirts.
Name
Description
Source

Wrist Watch
Decreases your time between Energy Regeneration ticks by 170 Seconds (1 tick every 2 minutes 10 seconds)
The Desert City Gate - (Replaces Rich Pocket Watch)
7500 , 50 , 1 Buried Treasure
| | Name | Description |
| --- | --- | --- |
| | Aviator Glasses | Perfect for desert sunshine and weather. |
| | Clay Cape | Also known as a Claype! |
| | Head Wrap | You can wrap your head to keep things from escaping out of your ears. |
Decoration Items
Edit
| | Name | Description |
| --- | --- | --- |
| | Carpet Roll | Possibly magic. |
| | Purple Vase | A delicate purple vase. |
| | Spikey Plant | Thrives in arid environments. |
Secret Bonus Area
Edit

The Thirtieth Secret Bonus Area can be accessed by finding the secret entrance in The Desert City Gate.
The entrance is on the South East side of the zone and is only accessible by Field 3.  Go to the South West side of the field and then transit South, then East.
The puzzle has puzzle 64

and the bushes are level 15 and 16.
After completing the puzzle, you will be rewarded with 250

and 2

.