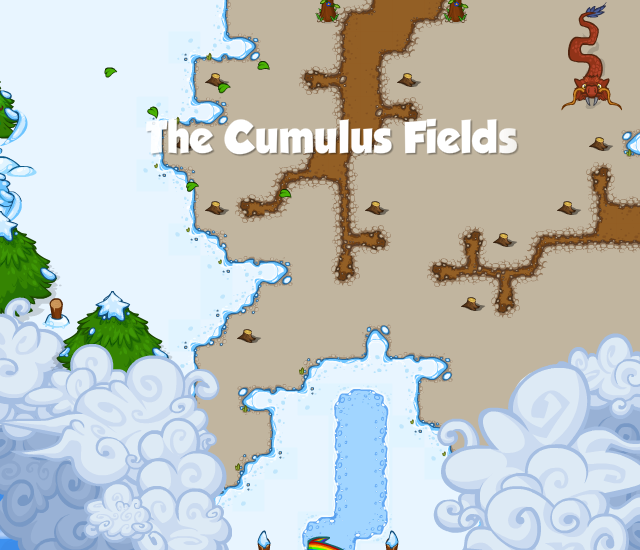 Mission
Task
Reward
Head In(to) the Clouds
Climb the Beanstalk to enter Cloudland
Make your way to the Cloud Castle
 ·  · 20%
Find a way up into cloudland and then adventure through them to find the Cloud King and see if he's got anything to do with the weirdness in the Fungal Forest and Seasonal Forest.
Mission
Task
Reward
Flares for Florence
Find 20 Emergency Flares
 · 2%
Florence needs some Emergency Flares for some reason. Don't ask questions, just look in the bushes.
Leashes for Larry
Find 20 Leashes
 · 2%
Larry is going to try to capture a Cloud Serpent. He'll need a leash to keep it in check.
Spoons for Shawna
Find 20 Giant Spoons
 · 2%
Shawna spotted those Sundaes you revealed and would really like to dig in. Find her some spoons.
Bait for Bertha
Find 20 Alligator Baits
 · 2%
Bertha is trying to lure some Alligators out of the cloud moat. Find her some Bait.
Name
Description
Source

Propeller Blade
Increases your Energy Odds Rating by 72500
Store after reaching The Cumulus Fields
50,000 , 26
| | Name | Description |
| --- | --- | --- |
| | Rain Hat | Nice and Dry! |
| | Cloud Gloves | Soft fluffy mittens. |
| | Cat Tail | Meow! |
Decoration Items
Edit
| | Name | Description |
| --- | --- | --- |
| | Cloud Ladder | It doesn't really go anywhere |
| | Rainbow Tile | ROYGBIV |
| | Cloud Table | Items placed on this table may fall through it. |
Secret Bonus Area
Edit
Solve puzzle 1 of Field 4, and go down the ladder (you may have to go fullscreen). Then follow the route in the picture. Keep on going until you reach the left edge of the map; you'll teleport to the SBA. The game currently has a sliding bug; you might need to take a different route once it's fixed. Actually, until the bug is fixed you can sometimes slide up and reach the SBA without solving any puzzles.
The puzzle here has 100

. The reward is 1000

and the

Hot Air Balloon.