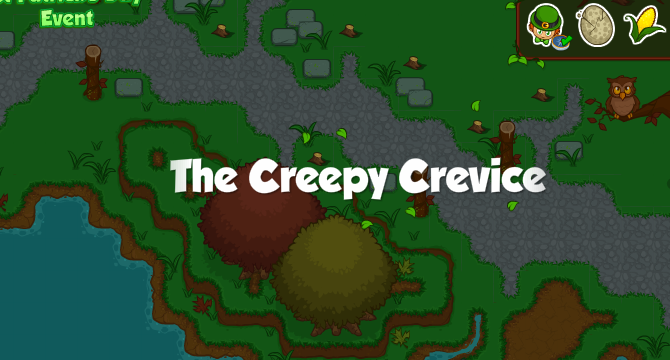 Mission
Task
Reward
Didn't See That Coming
Chase the Princess through the Creepy Crevice
The Princess has tricked you and run off into the Haunted Forest. You've got a bad feeling that maybe she's not as weak and as innocent as she seems. You'd better go after her...
1. Owls for Orvell
Find 40 Owls
50
Find Owls for Orvell in the Creepy Crevice Area in the Haunted Forest
2. Crumbs for the Kids
Find 36 Crumbs
50
Find Crumbs for the Kids in the Creepy Crevice Area in the Haunted Forest
3. Daggers for Drodo
Find 50 Daggers
50  ·
Find Daggers for Drodo in the Creepy Crevice Area in the Haunted Forest
4. Guardians for Ginny
Find 22 Guardians
50
Find Guardians for Ginny in the Creepy Crevice Area in the Haunted Forest
| | Name | Description |
| --- | --- | --- |
| | Starry Gloves | Probably magical |
| | Burlap Mask | For the truly creepy |
| | Red Hood | Not to be confused with a Little Red Riding Hood |
| | Ghostly Sword | 100% Ectoplasm! |
Decoration Items
Edit
| | Name | Description |
| --- | --- | --- |
| | Fortune Table | Give me a quarter! I'll tell you your fortune! Fortunes for quarters? I love quarters! |
| | Iron Fence | Gives your ranch a good gothic look |
| | Book Stand | Guvf grkg jnf ebg13'q gb ybbx fcbbxvre! |
| | Black Forest Cake | Oh, I see what we did there. Hah hah |
| | Name | Costs to whack |
| --- | --- | --- |
| | Spooky | 11 |
| | Bad Vlad | 12 |
Secret Bonus Area
Edit

The Twenty-Second Secret Bonus Area can be accessed by finding the secret entrance in the Creepy Crevice Zone.
The entrance is on the western side of the zone with the path to it starting to the south of Orvell (the first quest in this area). The path to the Secret Bonus Area can only be accessed after completing Field 3, Puzzle 3, which creates a log bridge that allows you to access the rest of the path.
Note: You may need to restart your game for the log bridge to be registered as a viable pathway.
The puzzle is 64 puzzle

and the bushes are level 12.
After completing the puzzle, you will be rewarded with 250

and the 

.