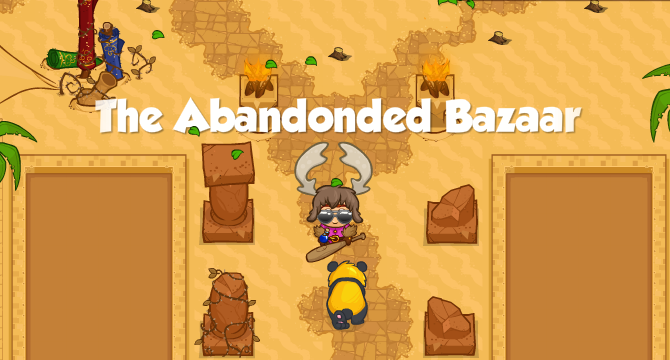 Return to The Desert City Gate
About the Zone
Edit
You have found an abandoned marketplace... Who knows what wonders might be found here? A magic lamp? A flying carpet? Or maybe just some assorted junk left to rot when this once-great city was abandoned. Completing the quests here will open the way to the entrance to The Ancient Port.
Mission
Task
Reward
Baskets for Belinda
Find 40 Baskets
50
Collect 40 Baskets for Belinda. You can find Baskets in bushes all throughout the Desert City Market District.
Snake Charming Flutes for Fateh
Find 50 Snake Charming Flutes
50
Collect 50 Snake Charms for Fateh. You can find Snake Charming Flutes in bushes all throughout the Desert City Market District.
Gritty Paint for Pete
Find 35 Paint for Pete.
50
Collect 35 Paint for Pete.
Dates for Dallas
Find 45 Dates
50
Collect 45 Dates for Dallas. You can find Dates in bushes all throughout the Desert City Market District.
Magic Genie
Edit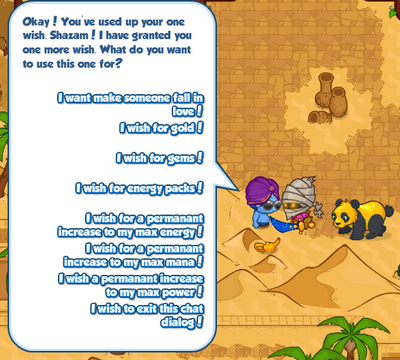 When you find the hidden lamp and rub it, you will awaken a Genie. He's a bit stingy, however, and will only give you ONE wish. See the photo for what you can choose from. Some of the wishes are temporary and others are permanent upgrades to your stats. Your choice of 25,000

, 6
, 8

, +20 Max
, +4 Max

, OR +4 Max

can be yours...
Choose... But choose wisely...
| | Name | Description |
| --- | --- | --- |
| | Mummy Mask | It will preserve your face for many years. |
| | Silk Gloves | They will protect your hands from kitten fluff and rainbows. |
| | Half Moon Cape | 50% of a full moon cape. |
Decoration Items
Edit
| | Name | Description |
| --- | --- | --- |
| | Magic Lamp | A genie house. |
| | Royal Tile | For royal feet to tread. |
| | Sun Decoration | Bring the sun indoors. |
Secret Bonus Area
Edit

The Thirty First Secret Bonus Area can be accessed by finding the secret entrance in The Abandoned Bazaar.
The entrance is to the side of the zone and is only accessible after completing Field 1 , Puzzle 1.  You will have to click the correct rug in the unlocked market. When you have successfully placed the rug, you can ride the Magic Carpet to SBA 31.
The puzzle has puzzle 64

and the bushes are level 16.
After completing the puzzle, you will be rewarded with 250

and the

.
Nate's Desert Adventure
Edit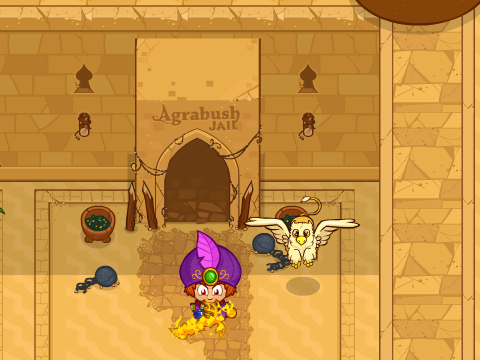 Help Nate escape from jail!
Visit the Town Crier in The Commons to start the quest. You then have to travel to The Abandoned Bazaar and head North East towards the exit of the zone as if you were traveling to The Ancient Port. Instead of continuing East, head North in the newly opened up entrance to Agrabush Prison.