Mission
Task
Reward
Welcome to Pompeii
Talk to the Townsfolk in Pompeii
2% or
Well that's an ominous name for a city. Chat with the townsfolk to learn more about the city.
The Ring
Take the Ring through The Idyllic Isles
Take the Ring beyond The Isle's Edge
Take the Ring up the The Incandescent Ascent
Drop the ring into The Torrid Top of the Volcano
Return to the Soothsayer in Pompeii
6% or  ·
Take the Ring to the Volcano! You'll need to travel through the Idyllic Isles, the Isle's Edge, the Incandescent Ascent, and the Torrid Top before tossing the ring into the very center of the Volcano. Good luck!
Crisis Averted
You must wait until the next update to complete this quest
You've calmed the Volcano and saved Pompeii (for now). You probably deserve a bit of a rest, so why not whack away in the Flux until the next update.
Name
Description
Source

Frozen Lava
Increases your Mana, Power and Energy Odds rating by 15000
Reward for completing the Ring quest in Pompeii
Meta type: Power odds + Mana odds + Energy odds increased
"Secret Bonus Area 54" in Pompeii
Edit
You must find all four Secret Letters in the Volcano zones before you can access the bonus area.
If you have completed the area and want to find the Secret Letters without the SPOILER below:
Each of the four Secret Letters were revealed in a puzzle in one of the fields. 1 note per zone. Use the Area map to look at each completed puzzle and discover the correct field

Spoiler: Secret Letter Locations
---

The Fifty-Fourth Secret Bonus Area can be accessed by finding the secret entrance in Pompeii.

Spoiler: Entrance to Secret Bonus Area 54
---
The entrance is located to the North of the village, in the Tower. You must find all 4 secret letters and follow the clues to unlock the secret. Start from the Laboratory door and follow the clues in order. You will end up just to the left of the Tower. Click on the wiggling bush to reveal the secret lever, which will open the sealed door.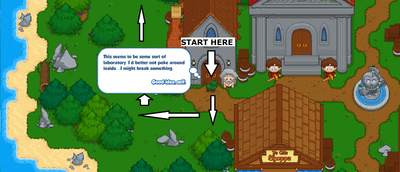 Secret Letter 1:"Start at the entrance to the laboratory and walk 5 paces South."
Secret Letter 2:"Walk 7 paces to the West."
Secret Letter 3"Walk 28 paces to the North."
Secret Letter 4:"Walk 8 paces to the East."

The puzzle has 81

.
After completing the puzzle, you will be rewarded with

and the

.