Event Area
Edit
Southwest of the Commons is home to the fairground, which has Seasonal and Holiday Events throughout the year. There in a new Event every month, and each event lasts a total of 14 days. These seasonal Events award Gear, Customization Items, Achievements, and Event Ribbons that increase your Base Energy, among other fun things.
The only permanent NPC is the Event Clown, who will tell you about current Events. During Events, there are additional NPC's (non player characters) that only exist until the end of the Event.
The Fairground (Commons Southwest)
Edit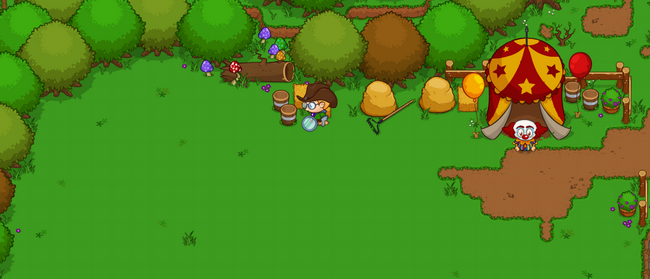 ---
Questions and Answers
Edit
Where do I go to access the seasonal events?
When an event is active, you can either click the shortcut icon located underneath your power bar (next to your puzzles, if you're in a field) and select "go to event" or teleport to The Commons via the globe map and walk to the event area in the southwest corner.
Do I get all the ribbons I've unlocked, or just one?
You receive just one ribbon - the highest level ribbon you have unlocked. You don't even have to place your ribbon in your house. Just having it in your inventory will increase your base Max Energy. If you've 100% completed the event, you receive a prize as well as the highest level of ribbon available.
When do I receive my ribbon and/or prize for the seasonal event?
All prizes for holiday events are distributed after the event has ended.
What are Limited-Time Events?
Limited Time Events are short-term mini quests that pop up periodically throughout the year, and are occasionally part of a Charity drive. These quests usually last only a few days will give some fun rewards at the end of the event.
---
Limited-time Events
Edit

Limited-time Quests appear on their own page.
---
Historical Archive
Edit
As Bushwhacker 2 continues a (hopefully) long life span, we need to make room for new events on this page.
Events that occurred in 2019.
Events that occurred in 2018.
Events that occurred in 2017.
Events that occurred in 2016.
Events that occurred in 2015.
Events that occurred in 2014.
Events that occurred in 2013.
Events that occurred in 2012.