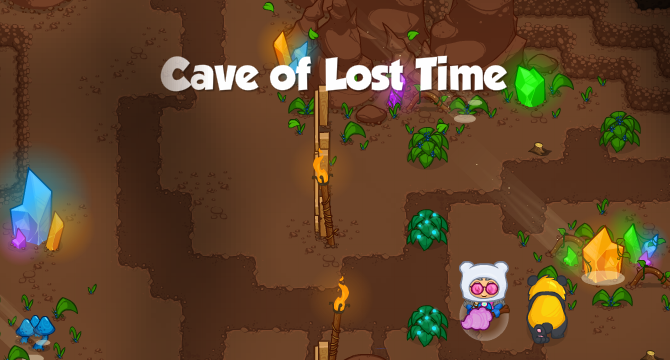 About This Zone
Edit
Nate Dragon is going caving, and of course he needs your help! If you have previously completed his Jungle adventure, and you've discovered the Mine Collapse zone from the latest update, then the Town Crier will have a new quest for you! Who knows what kind of wacky adventures Nate will lead you on this time!
Prerequisites: Complete Nate's Jungle Adventure and reach the 1st field in The Mine Collapse
Mission
Task
Reward
Nate's Secret Cave Adventure
Find Nate in The Mine Collapse
50
Upon talking to the Town Crier, you are informed that Nate wishes to meet you in The Mine Collapse just North of the first field
The Secret Cave
Follow Nate into Cave of Lost Time
50
Follow Nate into the Secret Cave. The entrance is North of the First Field in The Mine Collapse
Temporal Properties
Complete the first puzzle to find a way into the cave.
50
Well, Nate's first attempt to get us further came up short (Figures...), so now he wants me to find another way into the cave.
Stalagmites Be Gone
Complete the second puzzle to find a way into the cave.
50
Well, that was weird, a rock suddenly regrowing... Guess we need to find some way past the stalagmites.
Unbreak the Bridge
Complete the third puzzle to restore the bridge.
50
Nate's crazy, so it's up to you to fix the bridge! Whack bushes in the field next to the bridge until you find a solution.
Breach the Brambles
Complete the fourth puzzle to eliminate the brambles.
50
Well, we've run afoul of some brambles and Nate, being Nate, wants to burn them down (naturally...) Search for a safer way to remove them.
Boulder Poles
Find 20 Poles in the third field.
50
Nate's unorthodox ways caused a cave in (Go figure...) Collect some poles to pry away the boulder.
Bringing It Back
Complete the fifth puzzle to restore the chest.
50
One-Eyed Billy wants to share his "Rich Stuff" with you and Nate! Find a way to return his treasure chest back to normal.
We Be Digg'n
Find 30 Shovels in the fourth field.
50
Looks like we rewound time too far so that it's when the chest was still buried. Nate wants you to find shovels to unbury it.
One-Eyed Billy's Rich Stuff
Talk to Nate
250  ·  ·
2  · 2
Looks like some of One-Eyed Billy's Rich Stuff is still intact! Talk to Nate about how to divvy it up.
Name
Description
Source

Timey Wimey Watch
Decreases the cooldown of repeatable quests by 10%. Wibbely Wobbley.
Complete the One-Eyed Billy's Rich Stuff Quest
Meta type: Reduces cooldown on repeatable quests.