It's time for the bacon only diet. Happy April 1st, everyone! Bacon Gnomes will be awarded to those who whack enough Bacon on April 2nd, which is tomorrow. Bacon bacon bacon.
All bushes and critters have been replaced in game with Bacon or Pre-Bacon (pigs).
Bacon Missions
Edit
Mission
Task
Reward
Bacon
Yum!
You feel like you're having some sort of fever dream... did you eat too much bacon? These bushes weren't always bacon, were they? No matter, they must be whacked.. or eaten! For the good of humanity!
Bacon Rewards
Edit
There are no Gear or Decoration rewards
| | Name | Costs to whack |
| --- | --- | --- |
| | Bacon | max for current field |
| | Pre-Bacon | max for current field |
Achievements
Edit
Bacon Achievement
Bacon
Whack 50 Bacon
1
Bacon Bacon
Whack 250 Bacon
1
Pre-Bacon Achievement
Pre-Bacon
Whack 50 Walking Bacon
1

Note: Ironically, on Good Friday while the Easter Event was running, two of these achievements were added, "Bacon" and "Pre-Bacon", prior to the Bacon Event starting.
Event Participation Prizes
Edit
| | Name | Description | Cost |
| --- | --- | --- | --- |
| | Bacon Gnome | Tastes like chicken -- wait no, that's not right! | 500 Progress Points |
Other Bacon Event
Edit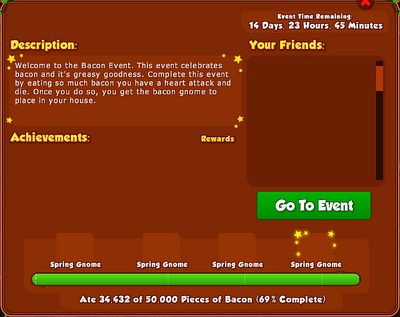 In nearly all of DJ Arts' games, whenever there is a blank coding emplacement where text for something should go, Adam Kosh, Lead Artist and Animator, inserts a random sentence about bacon. When designing layouts, placeholder text is needed to fill in the text areas to get a feel for what the layout will look like when filled in. There is lots and lots of silly default text on the dialogs thanks to Adam.
You will most likely see this image if your computer is slow to load the game.

You can combine trinkets to create the Boots of Bacon which increase your movement speed by 50%. Other references:
If you go to equip your hero in BW1, and the text is slow to load in the descriptions for the hero's gear, a sentence about bacon will appear in it's place until the correct text has loaded.
In EB2, the achievements page says: "Very useful, bacon related text can go here if we decide to explain about bacon. Otherwise, this might be useless. But for now, it will be here with the after taste of bacon. Mmmm... bacon."